Dear Class of 2020 admits, transfers, and all others,
Welcome Bears!
Congratulations on this incredible accomplishment.
I'm approaching my 3rd year as a full-time student at UC Berkeley. As a student of this world-renowned University, I have already had opportunities galore. I am constantly in awe with the resources granted by attending this University, but more importantly, I still face the daily surprise of learning that UC Berkeley has yet another aspect that I can take advantage of. A great deal of my experience has been unplanned and I would say that that has been the best part about the growing experience offered by this remarkable school.
Here's a checklist to get you on your way. As always, Go Bears!
Commonly forgotten dorm room purchases
Icy Hot
Glass containers (serves as food storage, something to eat out of, and as a microwavable container)
Disposable cups, plates, and utensils
2 Ply toilet paper
Febreze
Desk lamp
Paper towels
Mattress pad
Mattress topper
Lysol wipes
Clothes hangers
Shower sandals
Medicine
Power Strip
Hand sanitizer
Mini Vacuum
Combination lock
USB Drive
Commando wall hooks
Posters for decoration & small whiteboard
Tide instant stain remover
Ethernet cord
Television cable NOTE: Your dorm housing pays the cable tab for your room.
A couple other suggestions,
Buy more socks. You'll be surprised how fast you run out of clean ones.
Consider buying frozen fruit to store in your freezer. And also consider buying a small Magic Bullet to blend smoothies in your dorm room for a quick, healthy snack.
Curated tips by UC Berkeley students
Join the UC Berkeley 2020 Facebook Groups:
https://www.facebook.com/groups/1622352324670275/
https://www.facebook.com/groups/1457054624616483/
https://www.facebook.com/groups/208458842688478/
Pick up your student bus pass that will give you free rides across all A/C Transit buses (you can even hop on rides into San Francisco for free!)
You can pick up your AC Transit EasyPass Clipper card from the Cal 1 Card office located at 180 Cesar Chavez Center in Lower Sproul Plaza.

Find your lecture halls and discussion room before the first day of classes. NOTE: Most halls are on Google maps. Here's a map of campus, http://www.berkeley.edu/map
Don't buy textbooks from the student store unless you really have to. That's right, unless you need a newly released textbook specifically for your current semester, chances are upperclassmen are selling them at as low as 10% the price on the UC Berkeley Free & For Sale Facebook group https://www.facebook.com/groups/266259930135554/
or they are conveniently available in .PDF form uploaded by a student at some point in time. Ask students who have taken the class!
Want to get ahead of move-in day confusions? You can read the UC Berkeley move-in day FAQ at https://guidebook.com/guide/72766/list/323573/
Get your free football season tickets! All Freshmen and first-year transfers receive free season passes.
NOTE: To claim your tickets, go to https://ev9.evenue.net/cgi-bin/ncommerce3/EVExecMacro?linkID=cal&evm=myac&entry=main.html and activate your student account.
Then click Student tickets (in the top menu bar) -> Find tickets -> Add to cart
Don't be afraid to try new things. Remember, college is a whole new place if you treat it like so. Sometimes that means disagreeing with your old opinions and tendencies.
Create a LinkedIn at https://www.linkedin.com/
It's the social network of choice for professionals. Think of it as a way to figure out and get those job introductions you'd like. See this article https://www.linkedin.com/pulse/building-powerful-linkedin-ten-steps-tai-tran?trk=mp-reader-card by fellow bear, Tai Tran, to get started.
Always sign up for more classes rather than less. Remember, you can always drop classes, but may not easily be able to add new ones.
Add $ to your Cal1Card. This is different from meal points. If you plan to do laundry in the dorms, you'll need to use your Cal1Card or change to pay. NOTE: The card website can be accessed at http://services.housing.berkeley.edu/c1c/static/index.htm
Navigating the unfamiliar campus can be made easy by using the Campanile (the tall pointy tower at the center of campus) as a point of reference. Also, be sure to utilize the free UC Berkeley campus GPS, AKA asking passing students which way your destination is.
If you'd like to receive mail while living in campus housing, instruct senders to address your envelope/package with this specific format:
Residence Hall Name
Student Name (your name)
Building name Room number
Street Address (See below for specific unit address)
Berkeley, CA Zip (See below for specific unit zip code)
An example:
Unit 1 Residence Halls
Ezzy Sriram
Christian Hall 315A
2650 Durant Avenue
Berkeley, CA 94720-2274
Unit 1 Residence Halls
2650 Durant Avenue
Berkeley, CA 94720-2274
Unit 2 Residence Halls
2650 Haste Avenue
Berkeley, CA 94720-2278
Unit 3 Residence Halls
2400 Durant Avenue
Berkeley, CA 94720-2276
Foothill Residence Halls
2700 Hearst
Berkeley, CA 94720-2292
Stern Hall
Hearst Avenue and Highland Place
Berkeley, CA 94720-2292
Clark Kerr Campus
2601 Warring Street
Berkeley, CA 94720-2288
If you're going out for a night of partying on frat row or anywhere else, make sure to avoid carrying beer cans, solo cups, etc. outside of parties. Campus police frequently cite students displaying drinks outside on sidewalks/streets.
Remember the 10% waitlist rule. As a rule of thumb, the number of waitlisted students who get into a particular class is that class' enrollment size divided by 10. For example, if you are considering a class with a 500 student size limit, you can generally expect 50 students to get off the waitlist by the 2 week mark after the semester starts.
Go to Calapalooza, the semesterly fair where ALL campus organizations setup tables on Sproul. Even if you don't know a particular organization you want to join, the first step is to talk to people who know what is out there. Calapalooza takes place on Wednesday, August 31st 3:30-7pm on Lower and Upper Sproul Plaza.
Don't be discouraged by the lengthy or "intense" application processes that come with some clubs and campus organizations. Go to socials, and go to the coffees! If don't end up with an offer or you change your mind, the worst case scenario is that you spend time with likeminded people, get a free dinner, and learn more about the UC Berkeley student ecosystem.
Your Professors at UC Berkeley are likely the most knowledgable people you'll meet in their respective fields. In many cases, they are paid hundreds of dollars an hour to consult their advice outside the college environment. Professors are required to hold open office hours for their students. You know how much they cost for you? $0.
Note: Most Professors have their office hours listed on their respective Berkeley.edu staff page. If you are not intrusive, they are even happy to speak to students who aren't in their classes. Go for it, and ask them anything!
If you are studying late into the night, take advantage of UC Berkeley services to get you home safe (even at 1:30am)
Here are a list of services from the UCPD (University of California Police Department) website:
Store "backup" snacks and clothes to stay out of the inevitable dorm room hunger and laundry struggle.
Add your Berkeley.edu email to your phone.
NOTE:
Android phone: http://kb.berkeley.edu/campus-shared-services/page.php?id=25230
iPhone: https://kb.berkeley.edu/page.php?id=35269
Sign up for your RSF membership (it's free for students) at https://myrecreation.berkeley.edu/store/index.aspx?view=item&item=31509 After signing up, your membership will be loaded onto your Cal1Card, so that's all you'll need to gain access to fitness facilities.
NOTE: Although the membership is free, you must still sign-up on the above website or in-person at the RSF. The membership gives you access to many facilities on campus, some including pools, that are overviewed here http://recsports.berkeley.edu/facilities/
Ask people for help! I realized most, if not a majority of college-related stress could be stifled by simply asking for help- if that's your GSI, upperclassmen, or even students walking around campus.
Keeping your dorm room door open and welcoming will bolden your dorm room experience from your first day at school to the last day.
Focus on your goals. Don't get lost in the "I need to try everything mindset." Trying new things is highly recommended, but remember UC Berkeley has a sizable student body of extremely hard workers and brilliant people. There are often multiple organizations/groups, rather than just one, that can nicely fit your needs.
Did you know you can take a Game of Thrones course for units? Take advantage of the Decal program. Decals are courses led by other students and they are a gem of UC Berkeley.
NOTE: Decal courses are taken for credit (AKA you get units) just like real courses. Don't worry if you haven't checked them out or signed up just yet. Decals' first classes typically take place a couple weeks after the semester starts, so you haven't missed a thing! See the list of Fall 2016 Decals at http://www.decal.org/courses/. I think of Decals as an opportunity to enjoy favorite subjects. regardless of your major, and without the obligations of a full-fledged course. To tour the Decal offerings in-person, check out the Decal Expo (date TBA)
Remember to check the pass-no-pass deadline for your respective college (e.g. The College of Letter & Sciences is the 10th week of the semester) NOTE: Some courses must be taken for a letter grade to receive credit for them.
On a general note, practice awareness across different aspects of your college life. Maybe you study better during certain times of the day. Maybe you have trouble falling asleep if you drink caffeine past 8. Small, seemingly simply, changes go a long way if you notice and accept them.
The culture of a thriving college campus like UC Berkeley offers a unparalleled experience compared to any other time in your life in terms of social life, diverse activities, and easily accessible events. This is a hallmark cliche fact about college, but it is one that you should take to heart from the beginning.
Get logged on to campus-wide wifi – Airbears 2. NOTE: Steps detailed here https://ist.berkeley.edu/airbears/
At first, it is extremely common to feel frozen among such a large campus environment. Remember everyone feels the same way, so go talk to people, meet people. The best advice I can give you to sift through the endless opportunities available to you is to talk to like-minded students and develop a familiarity with what you are really looking for.
When you head out in the morning, be sure to dress for the afternoon weather. It's when you'll be running around campus the most.
Most convenient banks to sign-up with?
Here's a map of banks near campus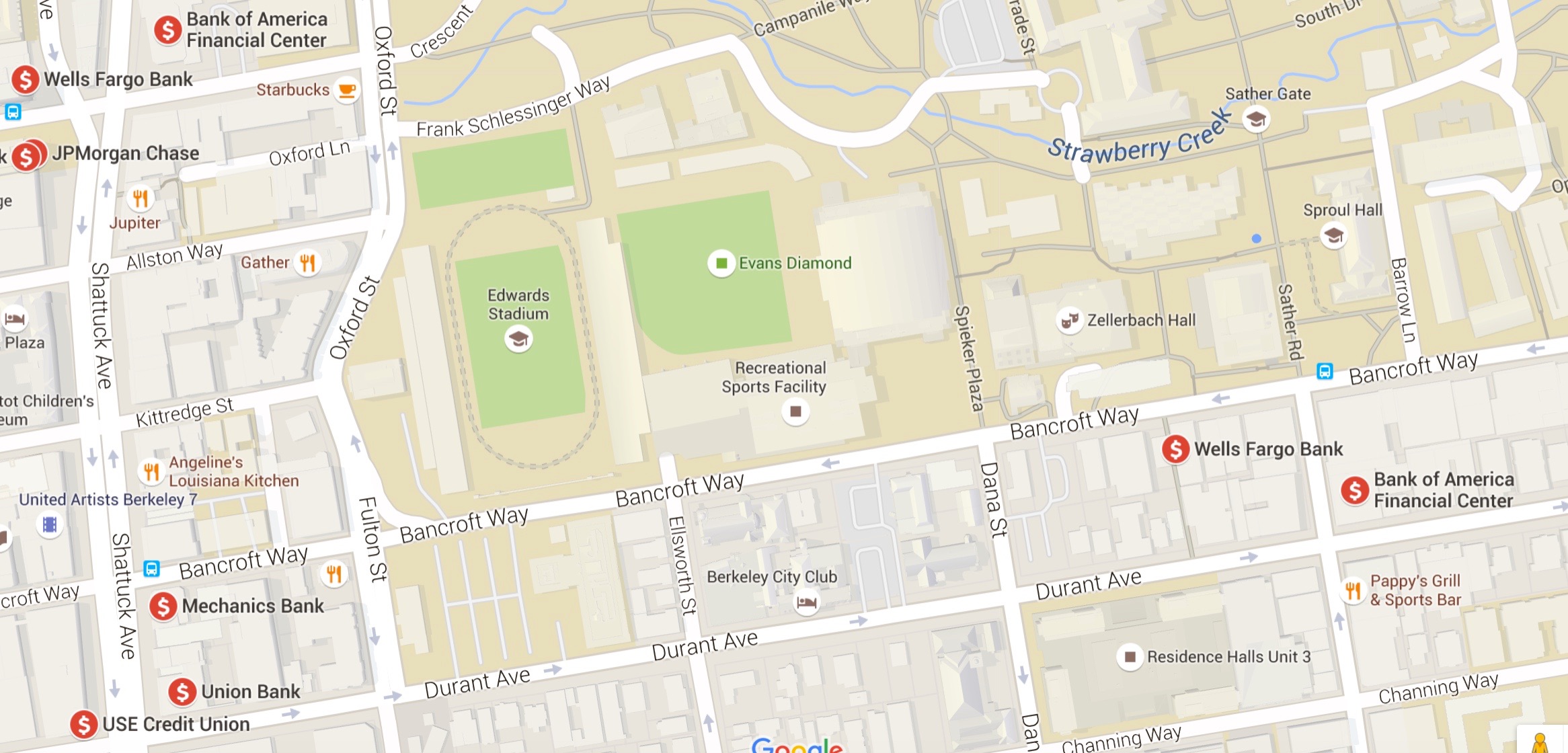 The majority of people I know use Wells Fargo or Bank of America because of their conveniently-located ATMs right on Southside.
If you'd like to be a step ahead of college procrastination, remember "I'll do it later" means "I'll do it never." Tweak this mindset to a specific, actionable task "I'll write 50% of the paper at 3:30pm" or better yet "Ok. I'll get it done now." Thanks to Forrest Sam, my Positive Psychology Decal Professor, for the insight.
Sign up for UC Berkeley campus' WarnMe alert system
NOTE: Sign up here https://warnme.berkeley.edu/
Plotting out your course schedule and registering for classes shouldn't be taken lightly. I'll keep the advice simple as to not turn this into a course enrollment guide:
– Meet with your major's or intended-major's advisor at least once a semester starting (especially during your first 3 semesters). They have a wealth of knowledge and they know the ins and outs of course requirements, course selection, and course discovery.
– When registering for courses, the CalCentral course enrollment system allows you to simulate adding courses before your registration day. You can add your whole planned schedule and "test" if it will work in regards to the courses' space availability, course time conflicts, and more.
– There are a stunning number of courses that you have at your disposal. Although there is no magic recipe to figure out the best courses for you, you can never go wrong by asking fellow students what courses they are taking and why. You'll expand your sense for academic disciplines, drill down on courses that may interest you, and get the insider advice.
– Use tools to help you chart your course schedule: http://www.berkeleytime.com/ is outstanding.
If you're looking for the best time to run errands (e.g. get haircuts, quick shopping), do it in the middle of the hour, it's when most students are in class.
The Professor can make or break your class. Keep in mind that you may be able to take a course next semester if you really need to. Just check with your academic advisor / upperclassmen to be sure.
FREE stuff with your .edu email
Note: Want to double the rewards? Click https://bconnected.berkeley.edu/manage-accounts to create an email alias (a second or third .edu email linked to your Berkeley email account).
Something to add? Email Ezzy at ezzy@berkeley.edu
Need more help figuring things out? Spot a student on campus and just ask them for guidance. I promise you, UC Berkeley students want new admits to feel at home, so take the first step, and ask. Cheers
Ezzy